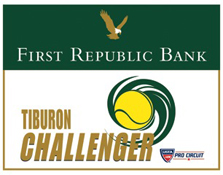 The Only Men's Professional Tennis Tournament in the Bay Area!
The 2013 Tiburon Challenger will feature LIVE VIDEO STREAMING of matches in the US and worldwide – so for those not fortunate enough to make it to the beautiful Tiburon Peninsula this year, you won't have to miss a thing! Our live scoring app will provide mobile and online access to up-to-the-second scoring of all matches, from qualifying matches to finals. And the latest updates and news will be posted to Facebook and Twitter where you can join in the conversation, keep up to date on who's coming to Tiburon, and . There are many ways to stay in touch with the Tiburon Challenger in 2013!
The First Republic Bank Tiburon Challenger has been a great springboard for players to reach the ATP level with alumni that include Tsonga, Karlovic, Querrey, Tipseravic, Bogomolov and Sweeting, to name a few.
We're looking forward to another exciting, action-packed USTA Pro-Circuit Challenger in Tiburon!